Trim Healthy Mama: 10+ Of Our Favorite Products & Resources
Home
/
Trim Healthy Mama: 10+ Of Our Favorite Products & Resources
♥ If you love this post, please consider sharing it & leaving a comment below! ♥
I mention Trim Healthy Mama (THM) a lot on my blog. You may be wondering just what that is?
What is Trim Healthy Mama?
Trim Healthy Mama is an eating lifestyle that focuses on low-glycemic foods. Healthy fats, low impact carbs, no artificial sweeteners or ingredients. Sprouted or soured grains can be used on plan, like sprouted bread or true sourdough (no yeast).
Many Keto recipes fit into THM, as long as they use clean ingredients and no fillers. THM's don't like to use inulin fibers, artificial sweeteners that are still sugar, like sucralose or sugar spiking ingredients like tapioca powder. We use stevia, erithritol and monkfruit as our sweeteners of choice as well as xylitol (if you don't have dogs) and allulose. Those at goal weight may use a little honey, maple syrup or coconut sugar in small quantities.
We separate fats and carbs in each meal setting. For instance, if I'm having bacon and eggs, I won't have sprouted toast or fruit. If so, that would be called a crossover. Crossovers are great for growing children, hard working men and those at goal weight. But for us with significant weight loss goals, crossovers are best kept to special occasions. I actually do a few crossover meals during that time of the month. It seems to benefit my hormones and keep the sugary cravings at bay. A slice of sprouted toast smeared with butter and some cinnamon and sweetener is so good!
I use a lot of Trim Healthy Mama products and THM resources in our home. In fact, most of the special ingredients I use are THM brand. I've compiled a list, below of my favorite THM products as well as resources we use to make THM easier. Most of these are affiliate links. If you make a purchase through one of my links (THM or Amazon), I will earn a small commission to help keep this site running, without any extra fees being passed on to you. We appreciate your support!
We are adding to this list constantly, so besure to bookmark this page for updated resources and links! I'll be adding a link to a sweetener conversion chart and other resources in the very near future!
While you're here, be sure to check out our THM recipes too!
Ok, in no particular order, here are my absolute favorite THM and non-THM items and Trim Healthy Mama resources.
Also be sure to check out our Amazon Storefront section for healthy low carb eating and cooking. (updated often)
Trim Healthy Mama Original Book
THM Plan Book
Trim Healthy Mama Cookbook
Trim Healthy Table
Sweetener conversion chart. Use the chart at the bottom of this page, to convert your sweetener amounts from sugar to your sweetener of choice! I will be creating a printable conversion chart with even more sweetener brands later this week so be sure to subscribe to our email list so you don't miss it!
Protein Bars:
Mixes:
Be sure to check out the entire THM Skin Care Line!
Stay tuned for more Trim Healthy Mama resources!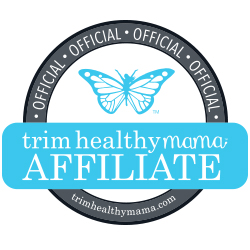 We are Trim Healthy Mama affiliates. If you make a purchase through our link, we will earn a small commission with no extra charges passed on to you. Thank you for helping to support our site!