Ohh y'all, I am super excited! THM has several new products in their Trim Healthy Hemp Family line coming out, today, along with Trim Healthy Hydrates. The Hydrates are flavoring packets for your water, GGMS, etc, that are sweetened with a stevia/erythritol blend. I currently use the Feminine Balance Trim Healthy Mama CBD oil blend and love it. These others are for more than just us gals, though, and a version for those who aren't allowed to use the kind with minimal THC.
There will be 5 new CBD additions to the Trim Healthy Hemp Family, releasing today and offered at introductory specials.
Chillax – this formula helps fight hyperactivity and anxiety
Pure and Classic – this formula has 450 mg of CBD only, no herbs and no THC. This one was created for those who do not respond well to certain herbs, who are drug tested at work and worried about trace amounts of THC and for those whose Dr. recommends CBD while pregnant or nursing.
Masculine Prime – this formula is for the guys to help them with energy, vigor and mood. I've also heard it helps in the romance area!
Heavy Hitter Full Spectrum – This Trim Healthy Mama CBD oil boasts 3000mg Full Spectrum hemp! It was created for those who may be dealing with very serious health issues and need a stronger, more potent formula. I'm considering this one for myself. Feminine Balance works for me, but my anxiety tends to hit hard on occasion. This may work well for me as a break-through formula to use in place of Feminine Balance when those times hit. (PMS)
Heavy Hitter CBD Only – Another 3000mg formula but this one contains CBD ONLY, no THC. 
THM Hydrates
THM flavor stick packs for water, similar to the True Lemon packets I currently use, without the small amount of sugar!
Flavors include:
Orange Oasis

Blue Skies Colada

Cherry Berry

Lemon Love
From Pearl:
"More info on tomorrow's launch and sale. (If you missed my earlier fb post, tomorrow we'll be launching 5 new CBD oils at intro sales prices for more of your unique needs and the for the rest of your family.) Feminine Balance will also be on sale. We'll also be launching our new Trim Healthy Hydrates… water flavor stick packs… just in time for warm weather.
In honor of Mother's Month (yes I know Mother's Day is over but Mother's Month is still going) we'll be having the Fountain cream and a 2 pack Coconut cream back on sale. The coconut cream is perfect for summer as it has a beautiful, naturally occurring mild sunscreen effect… studies are showing actual sunscreen may actually be harmful to the skin and body.
I need to tell you about how these stick packs are launching. In future you'll be able to purchase them in bags of 20 of each flavor but to launch we're doing something different. We've created a special super discount combo for the launch. It will be an 8 count sample pack of the Trim Healthy Hydrates that has 2 of each flavor… Lemon Love, Orange Oasis, Cherry Berry and Blue Skies Colada. It will also include our beautiful, glass, quart sized Butterfly sipper jar that fits in most car cup holders. This sipper jar's usual price is twenty bucks but we're basically giving it away in this combo. You get the 8 pack and the Sipper Jar for ust $9.99. Yeah… we're crazy but we're doing this in celebration of warm weather and the excitement over stick packs!"
Here are the three special bundles that come with a sipper!
I, personally, am very excited for the new flavor sticks! I love adding some flavor to my water and Good Girl Moonshines but the True Lemon/Lime packs are sometimes a bit too sweet for me, even when using only 1/2 a stick. So I'm really looking forward to trying these new flavor packets and comparing!
What are you most looking forward to in the new THM product launch?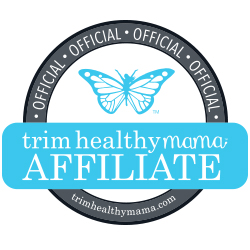 We are Trim Healthy Mama affiliates. If you make a purchase through our link, we will earn a small commission with no extra charges passed on to you. Thank you for helping to support our site!