I have a delicious Good Girl Moonshine recipe for you today: Strawberry Cream Soda GGMS! If you're not sure what a Good Girl Moonshine (GGMS) is, here is a little info.
GGMS is an all day sipper that, those of us eating the Trim Healthy Mama way, can enjoy throughout the day without guilt or adding fuels. They are a great way to get in daily water. They don't have added fats or carbs so they can be sipped on all day, one right after another if you like!
See our Protein Iced Coffee recipe!
There are TONS of recipes for Good Girl Moonshine on Pinterest and the Trim Healthy Mama site. I wanted a Strawberry Cream Soda and couldn't find exactly what I was looking for, so I went to the kitchen and started concocting!
I think it turned out really well!
We don't use regular sugar on THM. And we don't use artificial sweeteners, either. Instead, most of use use stevia or a stevia blend. Some have issues with ragweed and stevia so prefer to use Monkfruit.
I'm allergic to ragweed (stevia's in the family) but so far, knock on wood, I'm doing good with stevia! My favorite brand to use is called Pyure and I can find it at Walmart. It is a Stevia/Erythritol blend.
I LOVE fizzy drinks in the winter. My throat gets dry from the wood heat and something about the fizz feels good and helps soothe better than plain water.
If you're looking for a strawberry flavored drink or missing out on the fizz of soda, I hope you'll give this Strawberry Cream Soda GGMS recipe a try and let me know what you think.
Strawberry Cream Soda Good Girl Moonshine (THM - FP Sipper)
Ingredients
1

tbsp

Apple Cider Vinegar

2

tsp

Pyure sweetener

1/4

tsp

Vanilla extract

1/4

tsp

Strawberry extract

1

splash

Cold water

For mixing ingredients

Enough ice to fill quart jar

1

can

Seltzer water

I use Vantage brand
Instructions
Combine vinegar, sweetener, extracts and a splash of cold water in a quart jar.

Stir or add lid and shake well until mixed.

Fill jar with ice.

SLOWLY, pour seltzer water over ice. (I like Vantage brand)

Mix gently with spoon or straw and enjoy!
Notes
I occasionally add 1/4 tsp orange extract too for a little change in flavor!
Be sure to check out the newest Trim Healthy Mama cookbook, Trim Healthy Table – (THM site OR Amazon), too! I actually use both their books and we love all the recipes we've tried so far!
Have you tried the Good Girl Moonshine recipe from THM? If so, what is your favorite way to drink it? We have a couple different GGMS and THM based recipes here at Cinnamon Hollow and are always adding more!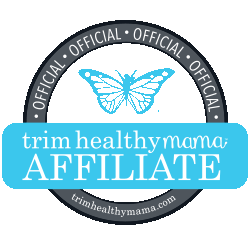 Hi! I'm Crystal Martin, a stay at home mom of 4, living in KY with my high school sweetheart husband of 20+ years. My husband and I are co-bloggers at Cinnamon Hollow where we write about homesteading, travel, beauty, our lives with our kids and pets, fun and free printables as well as the products and services that make our lives just a little bit easier – and a lot more fun!
Subscribe!
Subscribe to our newsletter and get this FREE No Soliciting Sign in your inbox shortly after signing up!