I mentioned recently that Clay and I are now following the Trim Healthy Mama eating lifestyle. Between the 2 of us, we have lost over 70 pounds in a little over 6 months. The food is delicious and we have not been deprived of anything tasty! Today, I have a delicious Wild Berry Oolong Sweet Tea recipe for you that incorporates the fat-burning power of Oolong Tea, ginger and apple cider vinegar(ACV) along with Baobab powder and a yummy wild berry tea.
If you're not a fan of Oolong, this sipper will help cut some of the boldness of that flavor and give you a mild, fruity, sweet tea.
Order THM Oolong Tea
Try THM Oolong tea in this Wild Berry Sipper recipe!
Wanna Pin It? Use the image below to share on Pinterest!
We gave up refined sugar back in March of this year (2018) along with white rice, white flour, regular pasta and bread. Really, that's about the only things you give up when following THM. And you aren't deprived because you replace them with a healthy alternative.
For instance, instead of refined sugar, we now use stevia, erythritol, xylitol (occasionally) and some honey for health benefits. Our favorite is a stevia/erythritol blend found at Walmart and Amazon, called Pyure Prganic Stevia Blend. Instead of white rice, we use brown rice and brown rice pasta or Dreamfields pasta. We eat bread that has sprouted grains as the first ingredient and also make our own "on-plan" breads using almond/coconut flour, eggs, etc. I've also goten into making my own sourdough bread using a starter! There's definitely a learning curve to that. To thicken sauces, I now use xanthan gum or gluccomanan instead of corn starch or flour.
Honestly, the changes haven't been that noticeable as far as foods go. The texture of baked goods is different but do-able. You do have to experiment with recipes and sweeteners to find what works for you. In my opinion, almost all the baked goods had a cornbread texture, when first starting out. I've learned some tips and tricks along the way and can handle many baked goods now.
One thing that is big on Trim Healthy Mama is the All Day Sippers. These are drinks that do not contain a fuel source, so, no large amounts of carbs or fats. They are called a Fuel Pull because they don't contain any fuels to burn. These drinks can be sipped on all day, like water or plain black coffee. This helps us get in our daily fluid amounts without getting bored of plain water.
Each day I'll drink a Good Girl Moonshine, Boost Juice, Sweetened Tea or Lemonade. I'll mix the drinks up depending on what I'm in the mood for. And if I want something hot and comforting I'll do that too! THM has a yummy recipe for TrimQuik chocolate milk, an Apple Pie Sip and Hot Cocoa. See? Not deprived in the least!
One of my new favorite sippers is one I created and named and Wild Berry Oolong Sweet Tea. It uses Oolong tea, Wild Berry Zinger tea, ACV, ginger, sweetener and an incredible ingredient called Baobab powder. This powder contains TONS of fiber and vitamin C and a whole, long list of other things our bodies need.
You can buy Wild Berry Zinger tea, here

What is Baobab Powder?
Its citrus and sherbet tasting dried flesh has five times the fiber of oats, and higher antioxidant levels than any food on the planet (8 times that of the super berry Acai, and more than both blueberries and pomegranates combined!) It has more than twice the calcium of milk, double the magnesium and iron of spinach and is loaded with six times the potassium of bananas.
Trim Health Mama
This drink is super easy to make. You simply brew your tea and stir in the remaining ingredients!
Enjoy This Wild Berry Oolong Sweet Tea
THM FP – All Day Sipper
I've edited this recipe, slightly, to include more flavor!
Print Recipe
Wild Berry Oolong Sweet Tea – THM FP
This recipe follows the guidelines of a Trim Healthy Mama Fuel Pull and can be used as an All Day Sipper. This means it doesn't contain a fuel source and can be sipped on all day, one after another. Sip all day or enjoy with your S, E or FP meals!
Ingredients
12

oz

hot water – just off the boil

2

Celestial Seasonings Wild Berry Zinger Tea Bag

1

Oolong Tea Bag

1

TBSP

Apple Cider Vinegar with the "Mother"

2 1/2

tsp

Pyure brand sweetener or your favorite on-plan sweetener of choice to taste

1/4

tsp

Ground Ginger

1

tsp

THM Baobab Boost Powder

1/2

C

Ice
Instructions
In quart jar, Steep both tea bags in just off the boil water for 5 minutes.

Throw tea bags away

Stir in remaining ingredients.

SEE NOTE

Add enough ice to fill the jar. Stir and enjoy!
Notes
If Baobab Boost Powder is clumping, blend a few seconds in a blender bottle or blender, holding lid tightly. Some blenders warn against using hot liquids so you can blend the Babobab Boost Powder with 1/4 cup cold water and then mix in the hot tea mixture if desired.
Enjoy hot or cold!
If drinking hot/warm, leave out ice and finish filling jar with warm water.
If you try this, or any of our other recipes, leave a comment below and let us know what you think!
Check out our other Trim Healthy Mama recipes!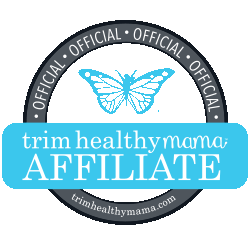 Leave us a comment, below and/or tag us on social media @CinnamonHollow
FACEBOOK    TWITTER    INSTAGRAM