I've mentioned many times over the years that fall/Autumn is my absolute favorite season. I love the colors, the smells, the flavors and the temperatures. I also love all the autumnal decor that is available here in the US. Buffalo plaid, oranges, yellows and browns, pumpkins and scarecrows… the list goes on and on. We can't always travel during this time, so I want to create a place, outside, that I can enjoy on the crisp fall evenings. Something comfy and cozy. Below are a few ideas to help you create a relaxing outdoor fall retreat at home.
I'm still working on buying things and getting mine set up, so, these are just ideas I have in mind. I'll post a final picture when I finally get it all done. I have a Pin board at the bottom of the post with even more ideas!
This is a sponsored post with Sunnydaze Decor. Affiliate links have been used in this post. Purchases made through our links earn us a small commission to pay for our website, without any fees passed on to you. Read our full disclosure policy for more info. Thank you for your support!
Firepit
The first thing you'll want is a firepit. There are TONS of different styles. You can find one that works in most any place you live. If you have a large backyard, a wood firepit, like the one pictured below, would work well for you. However, if you live in an apartment with a small patio, you could probably use a small propane firepit. Sunnydaze Decor has several varieties to choose from, if you're looking for one. (discount below) We have an outdoor stone firepit far from our homestead, and a propane version that can be moved around and used anywhere. I love that type for just lounging around in the evenings.
There's something about the smell of a wood bonfire though. So we do get up to the wood burning firepit as often as possible. It's great when we have a group of family and friends. We can all sit around the fire and enjoy the evening.
Don't forget to get some reusable roasting sticks so you can roast marshmallows and make s'mores! I love sitting around the firepit and roasting marshmallows. The kids love making s'mores and drinking warm apple cider. It's so relaxing and can really calm you after a stressful day. With a propane firepit, it's super easy to get out there and just relax.
Save 10% on Firepits from 9/8/2022- 9/30/2022
Seating
Next, you'll need seating. For our outdoor fall retreat, I prefer a couple cozy hammocks and a few big chairs to lounge in. I really like these Sunnydaze Hammocks . They are large and sit on a frame so you don't need trees to hang them. I'd love to grab a pillow and cozy blanket and curl up near the bonfire and take a little nap. Someone else would be tending to the fire, of course.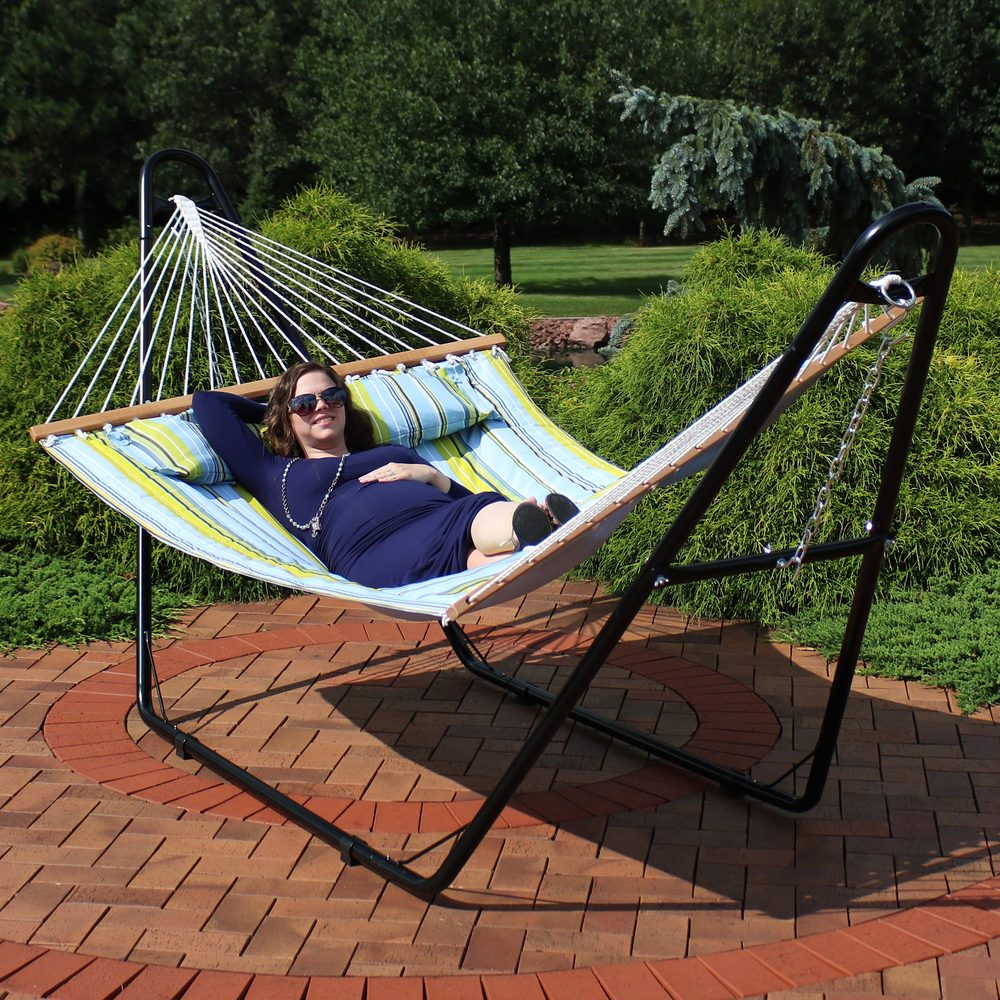 Blankets and Pillows
Speaking of blankets and pillows. You'll want something in fun, fall colors to accent your fall outdoor retreat. This is my favorite pillow. I bought it last year at Walmart, in the garden center. I love the colors and the pumpkins. This year, I want to get a black and white buffalo plaid pillow to go along with it. I saw a smaller, rectangle one the other day I think will go great. I need to get it before they sell out! I think the pillows along with a minky-type fabric blanket in a dark orange or burgundy would be so pretty.
Lighting
Another thing you'll want is some cute lights or lanterns. There is something about a lantern that just screams fall to me. I love solar lanterns and lights that I can sit outside and forget about. They light up automatically when the sun goes down and I don't have to remember to charge them or change the batteries! I also don't have to full with running a drop cord out for electric ones. Set it and be done with it.
DEcor
Let's not forget some decor for your outdoor fall retreat. Along with your pillows and blankets, you may want some decor that can be out all year. Something like an outdoor fountain. This will add some ambiance and background noise while still being relaxing and peaceful. You could add some fall leaves, ivy, statues, fall flags, etc to dress it up for fall, then change them out with other decor for other seasons. Little fall gnomes would be so cute and add a touch of whimsy to your fountain.
Plants
Lastly, add a few potted plants to your outdoor retreat and you're all set. For live plants, I love Pothos, also known as Devils Ivy. I do NOT have a green thumb but this is one plant that is very easy to grow. It climbs so it can fill in an area very quickly. I also like to use artificial plants, in cute colored pots to add a festive touch. Set smaller plants on benches, shelves and other higher areas to add some balance. Plants can also be used to add a little privacy to the area.
Overall, it's pretty easy and can be inexpensive to create your own fall outdoor retreat. Look for deals online and in-store, shop clearance aisles and get creative with your decor. You can almost always spray paint an item to get the color scheme you want to match your theme. Check dollar stores as well. They have really upped their game with products lately. And don't forget to check online stores like Sunnydaze Decor. They offer an assortment of pretty much anything you'd want or need to create your fall decor, including firepits, which is #1 on my list of fall outdoor must-haves!
What is one item you recommend for an outdoor fall retreat or outdoor oasis?
More Fall articles You May Enjoy:
Best Fall Fun Outings For Adventure-Loving Families
Enjoy Anakeesta In The Fall And Winter
Fall Room Spray Recipe + Save 20% With My Code At RMO!
Enjoy This Pumpkin Ginger Trifle Recipe This Fall!
Enjoy Fall In The Smokies With These Events And Attractions
Download Our Free Printable Autumn Bunting!