Clay bought me an Instant Pot (and an Air Fryer and Coffee maker) for Christmas and I am in love! It cooks things so quickly. With our electricity as sketchy as it is, I like knowing I can cook a pot roast or slow cooked meal in less than 30 minutes versus 5 – 6 hours! I'd much rather take my chances with a 30 minute meal than an all day meal when the power could go out at any minute. And if I have to use a generator to finish it up, a few minutes uses a lot less gas than all day in the slow cooker. So, needless to say, I was thrilled when I received my Instant Pot and set out to make this cheesy Instant Pot Salsa Chicken, that usually takes me all day in the slow-cooker! (p.s. same instructions for slow cooker, just cook on high for 3 – 5 hours or low for 6 – 8)
I've been trying to come up with some tasty, healthy recipes. I've also been scouring Pinterest and Facebook groups for new recipe to try. We love chicken and salsa cooked in the slow cooker so I thought maybe I could adapt that to work with the Instant Pot. It's the first thing I tried in it and it came out really well! So, I wanted to share it with you.
It only uses 5 ingredients: chicken breasts, salsa, cream cheese, shredded cheese and taco seasoning. There is a THM taco seasoning recipe that I'm in love with and I use 2 TBSP of that in this Instant Pot Salsa Chicken. All you do is pour a little of the salsa in the bottom of the Instant Pot. Season both sides of the chicken with the taco seasoning. Put the chicken in the Instant Post, put the cream cheese on top of the chicken. (I break it into smaller cubes) Pour the rest of the salsa over that and cook for 10 minutes allowing the pressure to natural release. Then place some shredded cheese on top, place the lid back on for a few seconds and let the heat of the chicken melt it down. Then use two forks to shred the chicken up. It should be nice and tender and shred easily.
Could it be any easier than that?
Once it is done cooking, I like to check my chicken with a meat thermometer to be absolutely sure it has reached temperature (165° F). My favorite is this digital thermometer at KaTom. It has a 31⁄8-inch-long probe so it works well with thick cuts of meat. The cover can be placed on the end and used as a handle. And, it's digital so it gives a quick and easy readout in seconds. It can read up to 450° F.
KaTom also has a blog with tons of delicious recipes like this spicy and healthy Caribbean Chicken Recipe. I can't wait to try that out!!!
You'll notice on my Instant Pot the timer is set at 15 minutes. My chicken was still a tiny bit frozen, so I added 5 minutes to the time.
Based on my thermometer when it was done, I think 10 minutes would have been fine still.
Ok, here's your Instant Post Salsa Chicken Recipe!
Print Recipe
Cheesy Instant Pot Salsa Chicken
Ingredients
2

lbs

chicken breasts

4

oz

cream cheese

1

jar

salsa

your favorite brand

2

cups

shredded cheese

2

tbsp

taco seasoning

homemade or your favorite brand. Look for no added sugar in the ingredients
Instructions
Pour small amount of salsa into bottom of Instant Pot. (This helps keep the chicken from sticking)

Season both sides of chicken with Taco Seasoning

Place chicken breasts in Instant Pot

Put cream cheese over top of chicken (I like to break it into smaller cubes)

Pour remaining salsa over top




Cook for 10 minutes with natural release

Let pressure release naturally

When done, remove lid, quickly top with shredded cheese and recover

Let cheese melt for a few seconds, shred with 2 forks and serve
Notes
This Salsa Chicken is a THM S (healthy fats) meal and is great served with brown rice and topped with guacamole and sour cream. The brown rice would make it a THM crossover with the carbs from the brown rice and the fats from the cheese, guacamole and sour cream. If you'd like to avoid a crossover, simply leave out the brown rice OR serve it over cauli rice to keep it an S.
Men and children need healthy crossover meals and those at goal weight or who are pregnant can enjoy crossovers as well. I also like to enjoy a crossover meal a couple times per month, even though I'm in weightloss mode. 
Check out our Fried Cabbage and Sausage recipe too!
If you try our Instant Post Salsa Chicken recipe or KaTom's Caribbean Chicken recipe, leave us a comment and let us know how you like it!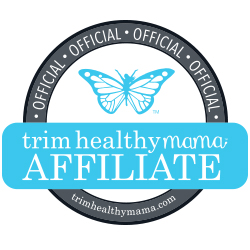 We are Trim Healthy Mama affiliates. If you make a purchase through our link, we will earn a small commission with no extra charges passed on to you. Thank you for helping to support our site!