There is a THM Makeup Sale this week! I'm sorry for not getting this out to you all sooner. I only just got the heads up about the MADE makeup sale, myself! As always I greatly appreciate when you shop through my affiliate link. This helps me keep my website running without adding any fees to you. https://cinnamonhollow.com/thm
This post contains affiliate links and I will be compensated if you make a purchase after clicking on my links. Affiliate links have been used in this post and/or product was received as a thank you for purchasing. Purchases made through our links earn us a small commission to pay for our website, without any fees passed on to you. Read our full disclosure policy for more info. Thank you for your support!
THM Makeup Sale Details:
MADE Makeup: Dolled Up for The Holidays! (11/3 – 11/9)
My favorite THM Makeup product is the MADE Makeup: Basey (Pressed Foundation). I wear Fair Maiden and it has lasted me quite awhile! I have a cream foundation that is NOT a clean product but I use a dab of that to cover the red spots on my face. Just a smidge. Then I go over my entire face with the Made Basey Pressed Foundation. It's a powdered mineral foundation and I LOVE how it looks on my 40+ year old face. I don't feel like it creases.
Of course, I've played around and found what works for me, personally. Don't be afraid to play with your makeup and skincare to find your perfect look and routine!
I'd love to try the MADE makeup Liddy and Glossy too. I just haven't had a chance to purchase those yet.
To be completely open and honest with you all, while I do love most THM makeup, I don't love the Lashy. Now, hear me out. It did help my lashes grow and it looked nice. BUT, on my lashes it was flakey and smudged and just didn't work well for me. I have oily skin and I have to use one specific brand of waterproof mascara and one specific eyeliner or else it just smears right off my eyelids! I'm weird, I know.
You may adore Lashy and, if so, I'm super happy for you because it is natural and clean and I really wish it was one that worked for me. So, give it a try and see if you like it! Just because it doesn't work for me doesn't mean it won't for you. Many ladies love it!
Ok, so that's the sale. I'll try to get individual product links for you throughout the day but I wanted to go ahead and get the sale notice out to you. You can just go through my main link and find the products there as well. https://cinnamonhollow.com/thm
If you shop through my link, thank you!!!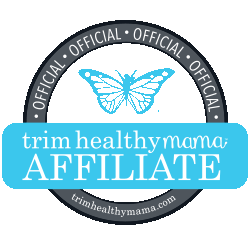 THM Cookbooks:
Check out ALL our favorite low glycemic and THM resources here.