Trim Healthy Indulgence is a cookbook featuring indulgent sugar-free desserts without the guilt!
Affiliate links have been used in this post and/or product was received as a thank you for purchasing. Purchases made through our links earn us a small commission to pay for our website, without any fees passed on to you. Read our full disclosure policy for more info. Thank you for your support!
These are special occasion desserts that are a bit heavier in fats and calories but still healthy and incredibly delicious! The Trim Healthy Indulgence cookbook features rich, velvety chocolate cakes, indulgent pastries, pies and tarts, luscious cheesecakes and tortes and more!
It includes 50 gluten and sugar-free recipes (including some dairy-free options). I've recently made one of her recipes called "Esther's Cake Of Wonders" and it is incredible! I've read where other ladies made this particular cake for folks that don't follow THM and aren't even sugar-free and they loved it!
There is a Peanut Butter Cheesecake that I plan on making this weekend. We don't have any special plans. I just really want to try it! I've been craving something rich and that sounds like it will hit the spot. I'm not the best baker, especially low carb baking, but I'm willing to give these recipes a try! I'll post over on my Instagram photos when I make something from the cookbook.
There are recipes for Crème Brûlée and Cinnamon Rolls I plan on making too.
Order your copy of the Trim Healthy Indulgence cookbook in here or the e-book here.
Find all our Trim Healthy Mama resources here.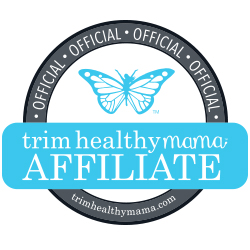 We are Trim Healthy Mama affiliates. If you make a purchase through our link, we will earn a small commission with no extra charges passed on to you. Thank you for helping to support our site!