Purify blend is a blend of essential oils known for their cleaning and purifying abilities. It includes Lemongrass, Tea Tree, Rosemary, Lavender, Myrtle, and Citronella essential oils. These oils also work to disinfect and deodorize, making this a great blend for every part of your home, including inside shoes and closets! For a limited time (until this Friday) when you spend $40 at Rocky Mountain Oils, you can get a bottle of Purify for just $5. That's a great deal! Along with the details of this offer, I have some great recipes and usage tips for you, below.
Affiliate links have been used in this post and/or product was received as a thank you for purchasing. Purchases made through our links earn us a small commission to pay for our website, without any fees passed on to you. Read our full disclosure policy for more info. Thank you for your support!
Just add Purify to your cart & the discount will be reflected at checkout! *Offer ends Friday 04/16/2021 at 11:59pm MT | While Supplies Last 
Keeping your home clean is important to keeping your family healthy. With Purify Essential Oil Blend, you can naturally cleanse surfaces, purify the air, eliminate unwanted odors, and keep germs at bay. Purify is a fresh combination of Lemongrass, Rosemary, Lavender, Myrtle, Citronella, and Tea Tree essential oils, many of which are natural disinfectants and deodorizers. By simply diffusing Purify or adding it to your natural cleansers, you can eliminate chemical-filled products and have the satisfaction of cleaning your home in a way that is both effective and safe for your family. Keep your home clean without worrying about leaving nasty chemicals behind.
Purify Blend Usage:
Add 3-4 drops of Purify to a cotton ball. Place the cotton ball inside a shoe or gym back, and leave overnight to remove stinky odors.
Diffuse or spray around doorways and windows to help keep bugs away.
Purify The Air Spray
75 drops Purify
4 ounces Distilled Water
Add all ingredients to a 4-ounce spray bottle, and shake to combine. Liberally spritz around the room as needed to eliminate unwanted odors and germs. You can refill the water 2-3 times before needing to refill the oil. (Products hat contain water have a short shelf life and will mold. Be sure to use within a couple weeks for best results)
Natural Home Cleanser
75 drops Purify
4 ounces Water
4 ounces White Vinegar
Add all ingredients to an 8-ounce spray bottle, and shake to combine. Shake well before each use. Use to clean bathroom and kitchen counters. Use on mold in the shower and tub, around the skins, in the basement, etc.
DIY Purify Natural Cleaning Spray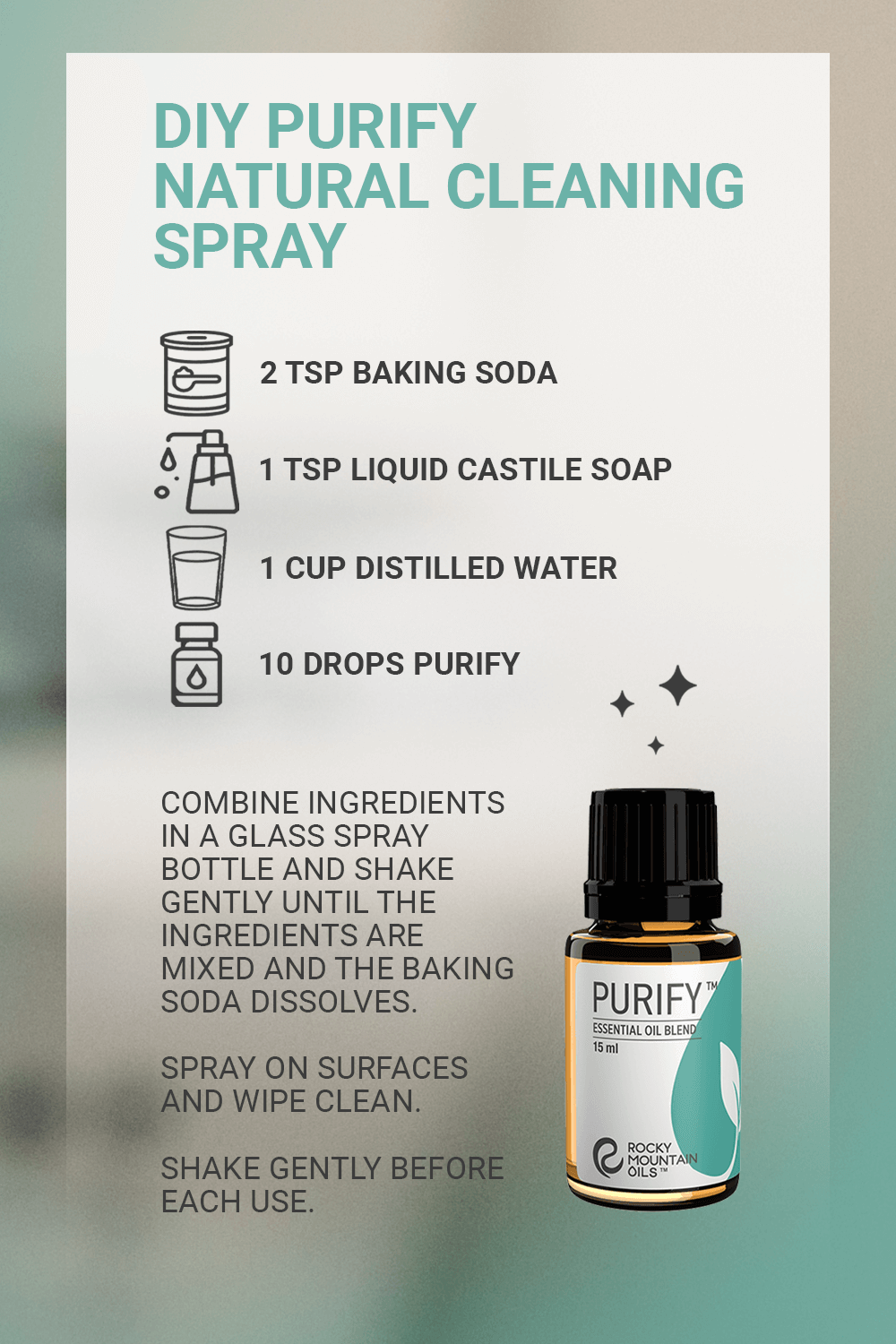 NOTE: As with any product, supplement, etc, always use with caution and please do research before using! Essential oils are VERY concentrated and some may interfere with certain medications and health conditions. For instance, I have high blood pressure and need to be careful when using rosemary essential oil. So, please, do your research before use and use with caution. With that said, essential oils can be an amazing addition to your health and wellness and natural home. This is in no way intended to be used as medical advice and we cannot be held responsible for your results.
Have you ever tried Purify blend? If so, what are some of your favorite ways to use this blend?
Find even more essential oil deals, tips and recipes in our archives.