There is just something so refreshing about lemon essential oil. Lemons, in general, for that matter smell amazing! It is uplifting and can really boost your mood. It has a ton of other great uses too, like cleaning, removing sticky residue from surfaces, helping with oily complexions and helping to give you shiny hair. What's not to love? And for TODAY ONLY, when you buy one lemon essential oil, you'll get a 2nd one FREE!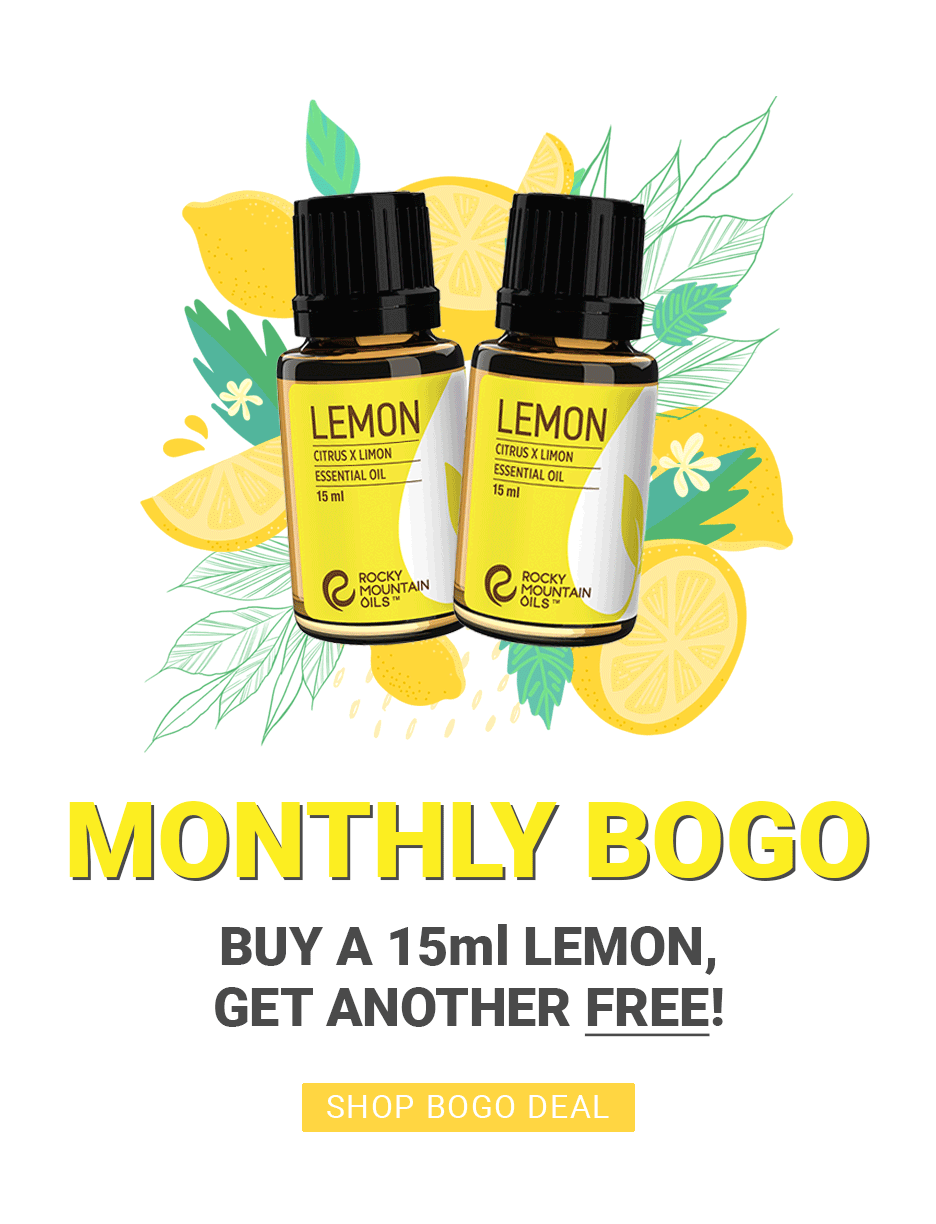 Disclaimer:
*Sale ends May 1, 2021 at 11:59pm MT | Can be combined with other discounts or offers | While supplies last | No limit.
This post contains affiliate links and I will be compensated if you make a purchase after clicking on my links. Affiliate links have been used in this post and/or product was received as a thank you for purchasing. Purchases made through our links earn us a small commission to pay for our website, without any fees passed on to you. Read our full disclosure policy for more info. Thank you for your support!
Something you may not know is that lemon oil is also great for seasonal allergies! I love to use it in conjunction with lavender and peppermint. You can diffuse it or use it in a personal inhaler. You could also make a roll-on or room spray. I use equal amounts of oils with either method.
Diffuse: 3 drops of each
Inhaler: 5 drops each. Add drops to cotton wick of inhaler. Close one nostril, place inhaler at opening of nose (NOT INSIDE) and inhale slowly. Peppermint is pretty strong so you may want to hold the inhaler away from your nose a little. Repeat on other side.
Roll-On: Add 2 drops each lemon, lavender and peppermint to a 15 ml roller bottle. Top off with fractionated coconut oil, almond oil or liquid carrier oil of your choice. Add cap. Shake to mix and roll on to pressure points on wrists. Breathe deeply to help with allergies.
Room Spray: Add 41/4 cup distilled water, 1/4 cup high proof alcohol (I use 190 proof Everclear, Vodka or 91% rubbing alcohol), 10 drops lemon, 10 drops peppermint and 10 drops lavender to a spray bottle. Shake to use. Mist over bed linens, curtains, etc to freshen rooms.
NOTE: These oils are not recommended for use around pets. Always do your own research for pet, child and personal safety before using.
Disclaimer:
*Sale ends May 1, 2021 at 11:59pm MT | Can be combined with other discounts or offers | While supplies last | No limit.
NOTE: As with any product, supplement, etc, always use with caution and please do research before using! Essential oils are VERY concentrated and some may interfere with certain medications and health conditions. For instance, I have high blood pressure and need to be careful when using rosemary essential oil. So, please, do your research before use and use with caution. With that said, essential oils can be an amazing addition to your health and wellness and natural home. This is in no way intended to be used as medical advice and we cannot be held responsible for your results.
What are some of your favorite uses for lemon essential oil? Do you like to clean with it? Did you know it was great for seasonal allergies?
Find more essential recipes and uses in our archives.