I love it when I find a great deal on quality products. Such is the case with Dr. Jacobs Naturals. Right now, you can get free shipping on all Dr. Jacobs Naturals products for orders $20 or more!
I received some complimentary products as a thank you for sharing the special and I'd like to tell you a little about them.
I received the following:
Almond Honey Castile Liquid Soap
Eucalyptus Castile Liquid Soap
Luscious Lavender Loofah Exfoliating Castile Soap Bar
The fragrances of these soaps are amazing! They use natural fragrances and, unlike others I've tried, the scent isn't diluted. It is strong and really comes through. I don't feel like it sticks to my skin a ton, though. For instance, I washed my hands with the Almond Honey Castile Liquid Soap and the smelled nice and clean afterwards, but the almond honey scent wasn't there. It sort of morphed into a clean soap scent, if that makes any sense?
The Eucalyptus Castile Liquid Soap is a big hit with my family right now. We only have a shower, no bathtub, so we can't take long, hot soaks when we're feeling bad. We live in the mountains and the pollen is horrid right now. With seasonal allergies upon us we're all stuffy and clogged up. One hot shower with the Eucalyptus opens the sinuses and offers some aromatherapy relief! Not to mention, it makes our skin super soft!
These soaps lather pretty well and rinse easily. As I said, the oils used in these soaps leave my skin feeling very soft and not dried out or sticky.
The Luscious Lavender with loofah is a great exfoliating soap. I have some dry skin on my knee and it seems to be helping slough that off without being too harsh. It just has small pieces of the loofah and when used with a wash cloth, gently exfoliates the skin.
Dr Jacobs Naturals Castile Soap line is 100% Made in the USA! They are NON-GMO, Paraben Free, Sulfate Free, Gluten Free, Free of artificial dyes & coloring. PETA Cruelty Free & Vegan.
If you're looking for some great, natural soaps, check out Dr Jacobs Naturals! There are several varieties to choose from! Free shipping offer below!!!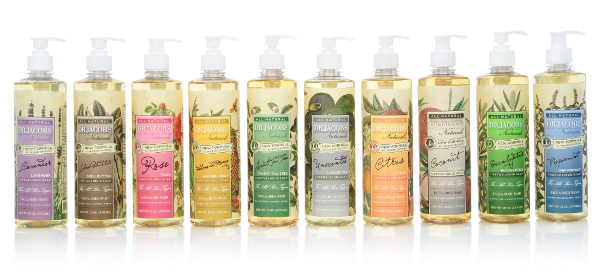 Free Shipping Now! - Free Shipping on all Dr. Jacobs Naturals products totaling over $20! Use code freeship20 @usfg
Free Shipping Now!
Free Shipping on all Dr. Jacobs Naturals products totaling over $20!
Use code: freeship20
https://www.usfamilycoupons.com/coupon.php?regionid=75&bid=13679&dealid=3593
Have you ever used any r. Jacobs Naturals products? What did you think?