Hey ya'll! You ready for a Trim Healthy Mama sale? Good! Because one is happening tomorrow(starting early hours Tuesday morning 7/12/22)! Twice per year, THM has a huge blowout sale. Once for Cyber Monday and then also Trim Healthy Mama Cyber In July sale. These Healthy Mama sales typically last around 48 hours but things do tend to sell out quickly. So you may wanna get in as soon as you get up so you can snag all the goodies you want.
Affiliate links have been used in this post. Purchases made through our links earn us a small commission to pay for our website, without any fees passed on to you. Read our full disclosure policy for more info. Thank you for your support!
We are not doctors and this is not to be considered medical advice. As with any product, service or supplement, use at your own risk. Always do your own research before using.
Trim Healthy Mama Cyber In July sale details:
"FROM PEARL: There will be deep, DEEP discounts on so many items (especially whey protein which has risen sky high with inflation and other factors which I don't quite understand, in fact it costs us 6 times what it cost just two years ago but we were able to secure huge truck loads so we can lower the price dramatically for this sale, yay!)
There will be bundles, blow outs, skin care and make up steals, and returning items that have been out of stock. It is all jolly exciting and I know financial times are rough right now for so many of us so we are thrilled to bring these discounts at such a time."
Gosh I love her. I love all the THM family. They are all so gracious and really care about us.
Are there any items, in particular, you are hoping will be in the Trim Healthy Mama Cyber In July sale? What are you looking to order with Trim Healthy Mama?
I'm in need of some more Nutritional Yeast, Natural Burst Vanilla Extract and Defatted Peanut Flour. I use the Nutritional Yeast on eggs, salads and in recipes. It has a cheesy/nutty taste and just adds something delicious to my eggs, in particular. I don't love the smell, so I don't smell it if I can help it. But I do love the taste! Oh I use it in my homemade Ramen soup, that I make using this Lotus Foods Millet & Brown Rice Ramen too. It is sooooo good!
You can find my Trim Healthy Mama recipes here.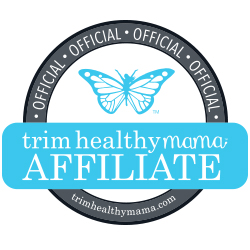 We are Trim Healthy Mama affiliates. If you make a purchase through our link, we will earn a small commission with no extra charges passed on to you. Thank you for helping to support our site!