Folks, I cannot begin to tell you just how excited I am for the NEW Trim Healthy Mama MADE Makeup Line! I won't be able to purchase any, just yet, because we are in the process of renovating our house and a few other exiting things. BUT, it is on my list and I wanted to let you all know about it so you can get some for yourselves!
Right now, there are only a few things available. They had some production issues in their New York production area that set them back a little on things. So there's only a few things available right now and only a limited supply. So you'll wanna look quickly before it sells out. Of course, THM is great about getting new supply pretty quickly. This time, though, it all depends on their New York producers. So, fingers crossed you get to the checkout in time and won't have to wait! The makeup does NOT contain any fillers, harmful chemicals, parabens, and is completely non-toxic. The ingredients are organic and mineral-based. MADE contains anti-inflammatory ingredients such as Aloe Vera, Grape Seed Oil, Essential Oils, and is also rich in natural botanicals like Candelilla and Calendula.
Affiliate links have been used in this post and/or product was received as a thank you for purchasing. Purchases made through our links earn us a small commission to pay for our website, without any fees passed on to you. Read our full disclosure policy for more info. Thank you for your support!
I praise you because  I am fearfully and wonderfully made;  Your works are wonderful  I know that full well.  -Psalm 139:14 
Here's what's available so far.
First up is Liddy, a gorgeous eyeshadow palette. The THM sisters always give their products cute names and the makeup names fit their use. Liddy because it goes on your eyelids! There are 12 beautiful shades of healthy earthy pigments.
Lasy Mascara is thick and doesn't clump. They say it doesn't cry or laugh off easily but that it is easy to remove. I'm down with that! I hate mascara that pulls my lashes out when trying to remove. I'm all about ease when it comes to removing mascara and cleaning my face!
Last but not least is the MADE Luxury Set. It is a beautiful bag that will hold your make up and accessories. It comes with a few extras, as well! This set includes the bag, three face and cheek brushes, 2 eye shadow brushes, and 2 eye shadow applicators. Also included is the perfectly sized mini Travel Pot to fill with your favorite moisturizing cream as well as the Misty bottle which delivers ultra-fine, hydrating mist to set your skin.
You can also fill the fine mist sprayer with Trim Healthy Naturals Aromatherapy Lavender Spray OR your own DIY Hydrosol Spray (recipe coming soon). Spray it between layers of Basey (their soon to be released foundation) to build coverage and avoid caking. Use it as a setting spray as well!
Leave me a comment below OR tag us in a photo on Instagram ( @cinnamonhollow ) showing off your new THM Made Makeup or makeup look. I can't wait to see your photos!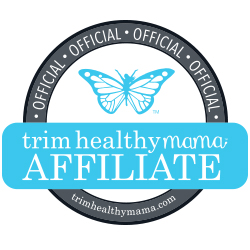 We are Trim Healthy Mama affiliates. If you make a purchase through our link, we will earn a small commission with no extra charges passed on to you. Thank you for helping to support our site!