Heads up for the Trim Healthy Super Cyber Sale!
If you're a THM, Cyber Monday is their Biggest Sale of The Year with their Trim Healthy Super Cyber Sale, the only time when every single THM product is discounted… but this year it will be for the entire extended weekend!!! So it will start Friday morning (early hours) and end Monday night.
Prices will be slashes on all your faves like Baobab, Gentle Sweet, Baking Blend, Collagen, Pristine Whey Protein, Chocolate Bars (milk and dark), protein bars, Skin Care and Trim Healthy Hemp favorites such as Feminine Balance.
They will also be offering some fun bundles for the sale and some blow out priced items.
Please shop via our link when the sale begins Friday morning. We'll earn a small commission without any fees passed to you
https://cinnamonhollow.com/thm
This post contains affiliate links and I will be compensated if you make a purchase after clicking on my links. Affiliate links have been used in this post and/or product was received as a thank you for purchasing. Purchases made through our links earn us a small commission to pay for our website, without any fees passed on to you. Read our full disclosure policy for more info. Thank you for your support!
There are a few new things coming too like 3 New Protein Pleasure Cookie Flavors!
Choc-Choc Peanut
Peanut
Cinnadoodle

Sadly, NOT launching for the sale BUT coming soon is their new Dynamic Duo Greens Powder. Once released, they will consist of 2 powerhouse greens: spirulina and moringa. They provide you with a daily detox, fights fatigue, kicks anemia, supports your immune system, loves on your skin, offers you rich amounts of protein and most importantly it brings fantastic amounts of folate to support your methylation pathways. They are great for days when you don't get all your green veggies in. You can put it in drinks, smoothies, lattes and baked treats or just try the easy recipe on the back of the package to get your daily dose in. Both are organic and safe for pregnancy and nursing seasons, as well as for children of all ages. Our spirulina is grown in pure water wells free of contaminants and is non-irridated and microcystin free.

~Pre-Order Trim Healthy Future
If you haven't already pre-ordered the latest Trim Healthy Cookbook we have extended the pre-sale period through December 7th. It must be purchased on its own but don't forget, you'll get a free digital copy of the book right away to enjoy as well as a free 3-month membership and 3 bonus recipes.
~Last thing – if you are local to Middle Tennessee.
The Nashville store will be reopening. You'll be able to go into the store again as you could before Covid and it will be open on the Saturday of the Cyber weekend from 10 – 2 to accommodate our locals who can't get there Friday.
As always we appreciate it when you shop through our affiliate link. We get a small commission without any extra fees passed to you.
https://cinnamonhollow.com/thm
Find more great Trim Healthy Mama content here.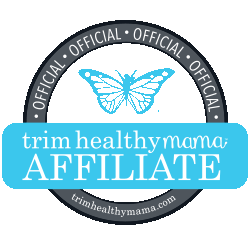 Crystal Martin is a stay at home mom of 4, married to Clay who she's loved for over 20 years, living in Kentucky but loves traveling to the Smoky Mountains. She is the co-owner/admin of Cinnamon Hollow and offers her services as an online blog assistant with skills ranging from WordPress installation, customization and maintenance to html editing and administrative tasks. Contact Crystal for a quote!