There will be a Trim Healthy Mama Spring Sale today (Tuesday). This sale will feature THM's best sellers like collagen, protein powder, Gentle Sweet, etc.
---
---
In the meantime, if you're ready to place an order and don't care to wait for the sale, we'd be honored if you shop through our affiliate links. We will earn a small commission when you shop through our links, with no additional costs passed to you.
https://cinnamonhollow.com/thm – main store section. Some ndividual links below.
I placed an order last week but hope to order, again, during the sale. I ordered some ingredients I've never tried before including Glucommanan (Gluccie), Sunflower Lecithin, THM Noodles, Brownie Fix Protein Bars (these are really tasty, BUT, let them sit out about 20 minutes to soften because they are super chewy but need to be refrigerated or frozen due to no preservatives. Otherwise, they'll mold.) and I stocked up on Gentle Sweet – the xylitol free version since we have a dog.
I thought I'd ordered Baobab, as well to stock up, but I'd forgotten to place it in my cart. So, I hope I can get some Baobab Boost, Integral Collagen and Orange Oasis Hydrates. Fingers crossed I get on in time!
With my order I received last week I plan on making an Earth Milk Sip, right away,and using some Sunflower Lecithin to keep it emulsified. Yum!
What are your favorite THM products?
SHOP OUR THM FAVORITES:
https://cinnamonhollow.com/thm
(if these links aren't working, please
click here
instead.
Trim Healthy Mama Store
THM Vanilla Extract
THM Pristine Whey Protein
THM Integral Collagen
THM Baking Blend
THM Oat Fiber
THM Nutritional Yeast
THM Sweeteners
THM Baobab Boost Powder
THM MCT Oil
THM Defatted Pressed Peanut Powder
THM Natural Burst Extracts
Trim Healthy Future Cookbook
Trim Healthy Table Cookbook
Trim Healthy Mama Original Cookbook
THM Orange Silk Hydrating Cream & Spünj Duo
THM Feminine Balance
THM Pure & Classic CBD Oil
THM Masculine Prime CBD Oil
THM Heavy Hitter CBD ONLY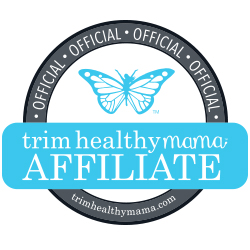 We are Trim Healthy Mama affiliates. If you make a purchase through our link, we will earn a small commission with no extra charges passed on to you. Thank you for helping to support our site!
Hi! I'm Crystal Martin, a stay at home mom of 4, living in KY with my high school sweetheart husband of 20+ years. My husband and I are co-bloggers at Cinnamon Hollow where we write about homesteading, travel, beauty, our lives with our kids and pets, fun and free printables as well as the products and services that make our lives just a little bit easier – and a lot more fun!
Subscribe!
Subscribe to our newsletter and get this FREE No Soliciting Sign in your inbox shortly after signing up!